Ayubowan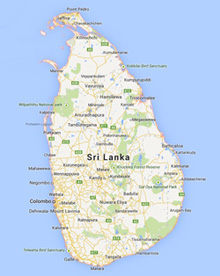 Day 1

: Arrive at Colombo Airport and transfer the clients to Giritale ,towards East and North East, stop at Kurunegala ,the main city of this province. In the centre of the North the vegetation is dry, mixed and evergreen. The zone is much intact and less populated where you can see many wild animals.(even during the tour in the vehicle)

Days 2, 3, 4

: You have three days at your disposal to visit the following places. But the clients can freely organize with the tour guide as they wish, as you are at your disposal during all the time of the tour.


the antique capital of Anuradhapura.
the majestic statue of Aukana Buddha.
Safari in the Minneriya park.
the ruins of Polonnaruwa.
the famous fortified small town.
Dambulla cave temple.
Antique monastery of b Ritigala.

Day 5

: Leave for Kandy and on the way to visit a Batik factory.Arrive In Kandy and accommodate in the hotel. In the evening visit Botanical Garden, museum. You have the possibility of visiting the market for shopping and stay the night at Kandy.
Pernottamento in Kandy.

Day 6

:The breakfast in the hotel and depart for the Horton plains. On the way visit a tea plantation and we visit a tea factory also to see its various manufacturing stages. The vegetation is completely different from other areas of the island. On arrival you can see the park of the hill country. A long walk.At the end of the visit proceed to Ella where the nightstay is.

Day 7

:After the Breakfast proceed to Kataragama. During the journey you can visit Buduruwagala. In this part of the island,you can see the cultivators use buffaloes for their work and the household vegetable beds. Accomodation in the hotel at Kataragama hotel and in the evening visiting the Yala National Park. Then back to hotel for the night stay.

Day 8

: In the morning in hotel to rest.In the evening visit the famous Kataragama temple,one of the grand cultural places in the island,mixed cultures and religions.

Day 9

:Proceed to Galle. In the course of the tour you can see the Southern coastal areas. Tipical atmosphere.Here you will notice the stilt fishermen. Prior to the arrival at the hotel,you have to visit the Galle city.

Day 10

: This day is at your disposal to the activities in the sea.

Day 11

: Optional Safari in the boat.

Day 12

: Optional visit to the interior parts of the country.

Day 13

: Free time to the activities at the sea and the shore.

Day 14

: yet you have the time to spend at the sea and the shore.

Day 15

: Departure.